…still slightly a work in process…
The last weekends I wrote about preparing an online workshop titled from SPACE to SPACE with NO screens on physical-computing over the network in The Boardgame as Remote Teaching Tool?, followed by a post about Why? the networks we use and rely on every day are even possible and how we came to build them in the first place.
This weekend I thought to compile a collection of works that deal with the internet, that use the internet, that make over the internet, with a focus on communications that go beyond the use of screens as information displays.
It was not so easy to find works that remain completely screenless, and that otherwise don't have audio as their main content communication channel (like a telephone).
---
GETTING PHYSICAL

over
in
with
on
via
through
because of
despite of
the networked remote communication technologies we've built
---
---
inTouch
One of my favorites, because old and simple and *super* physical (no screens, non-verbal) is the inTouch by the Tangible Media Group. In the prototype shown in the video the two decides are connected physically (no electronics involved) but later prototypes used motors with force-feedback sensing, producing electronic signals that could be communicated over a network.
---
»The Telepresence Garment«
>> https://www.digitalartarchive.at/database/general/work/the-telepresence-garment.html
"I first conceived the Telepresence Garment in 1995 to investigate the notion of the mediascape as an expanded cloth; i.e., to consider wireless networking as a new fabric that envelops the body." … "The Garment was designed as an interactive piece to be worn by any local participant willing to allow his or her body to be engaged by others remotely."
---
The Telegarden
While The Telegarden (1995-2004, Ars Electronica Museum, Linz Austria) by Ken Goldberg and Joseph Santarromana relies on screens on one end, I also like this project as snapshot of what it was like for some artists at the time the possibilities of networked communication became available to them. And they simply asked themselves "what to do with the Internet" in their artistic practices.
"The idea for the telegarden was inspired by the Internet itself….."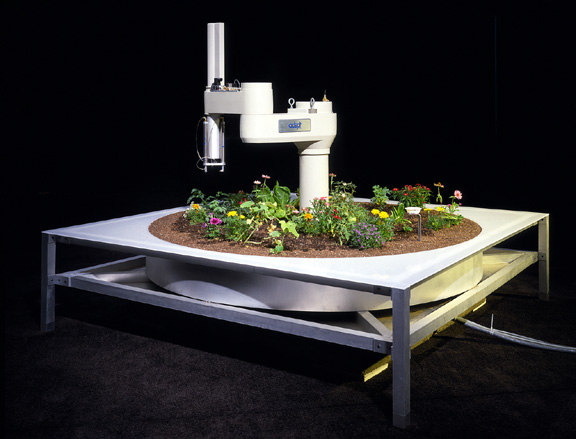 The Robot in the Garden
Marina Grzinic, "Exposure Time, the Aura, and Telerobotics," in The Robot in the Garden: Telerobotics and Telepistemology in the Age of the Internet, edited by Ken Goldberg (MIT Press, 2000), p. 215.
http://atc.berkeley.edu/201/readings/Robot_In_The_Garden_Intro.pdf
---
Green Wall
20 years later another artistic research interpretation of a networked garden is "a prototype installation of a vertical garden, in which a symbiotic interaction between plants, computers, robots and people takes place." – not so different from before.
Though I remember hearing from one of the people involved that a goal is to eliminate the human from the ecosystem to have it be self-sufficient. Although how can anything be independent these days in world that is showing us how deeply connected everything is.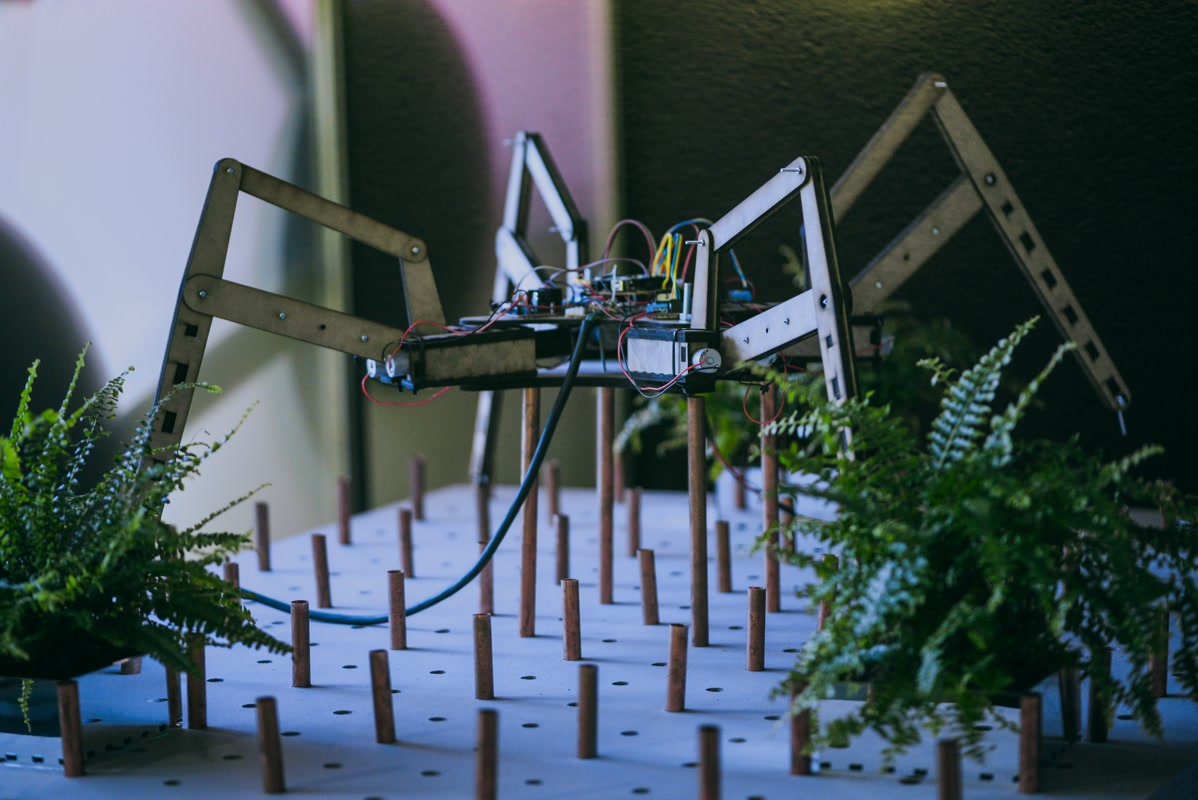 ---
Time, Motion, Touch
This is a wonderful post by Julian Bleecker on his thoughts behind his Flavanoid project (A wearable device that measures your activity and uses the data for change your avatar in the cirtual world Second Life) and asks the question:
"What are the ways in which time, motion and touch be used to create a meaningful bridge between 1st life (physical) and 2nd life (digital)?"
>> http://blog.nearfuturelaboratory.com/category/designed_for_implications/page/16/
By Julian Bleecker's techkwondo website – "mobile, wireless, technology, play"
http://www.techkwondo.com/index.html
>> https://we-make-money-not-art.com/interview_with_14/
---
Embodisuit
A collaboration between Rachel Freire and Sophia Brueckner
"…the Embodisuit allows its wearer to map signals onto different places on their body. It both critiques and offers an alternative to current trends in wearable technology. Most wearables harvest data from their users to be sent and processed elsewhere. The Embodisuit flips this paradigm."
>> https://www.rachelfreire.com/embodisuit
---
BUTTONS: BLIND CAMERA
by Sascha Pohflepp
---
Constraint City – The Pain of Everyday Life
by Gordan Savicic
"…lets you literally, feel this pain of information society. The higher the wireless signal strength of close encrypted networks, the tighter the corset gets."
>> https://www.yugo.at/equilibre/
---
A Transmaterial Body
by Chelsea Thompto
"the boundaries of the self through poetic appropriation of network technology"
https://www.chelseathompto.com/transmaterial
vtol's Hot Ninja
"Its main function is communication and propaganda through the Wi-FI wireless standard."
http://vtol.cc/Hot-Ninja

vtol's hotspot poet:
"Autonomous micro-device which distributes wi-fi masked as wireless network, visible at any gadget such as a smartphone or a laptop. The device is automatically renaming its network every 10 seconds, taking as its name various lines of poems by famous poets."
>> http://vtol.cc/hotspot-poet
---
datacatchers
by Ebru Kurbak
>> https://ebrukurbak.net/datacatchers/
---
Hertzian Tales
by Anthony Dunne and Fiona Raby

---
Full Body, Full Everything
---
teslasuit
The TESLASUIT training solution provides outputs from haptic feedback and climate control to users, and receives inputs from motion capture and biometrics. With our software and partner ecosystem, this technology is a complete solution for improving human performance.
---
Internet Of Things (IOT)
---
UNINVITED GUESTS
by Superflux
In response to the question "As physical objects in the home become embedded with increasing smartness and autonomy, what relationships do we form with them?"
Superflux explored the tensions that could emerge within the 'connected home' construct.
>> https://superflux.in/index.php/work/uninvited-guests/#
Uninvited Guests from Superflux on Vimeo.
---
rambler shoes
by Ricardo Nascimento and Tiago Martins
"Rambler is a critical embodiment of the (until now) metaphorical notion of blogging every step you take. It aims to bring the practice of microblogging to one of many possible extremes, turning it into an automatic, thoughtless act of diffusing large amounts of slightly ambiguous, repetitive and arguably useless personal information."
>> https://www.onascimento.com/new-page-4
>> https://twitter.com/ramblershoes?lang=en
---
More sensor shoes
by the creator of Shiftr.io:
The Stellvertreter shoes
convey the feeling to be close to a person who is somewhere else by transferring the activities of the distant person's shoes into the shoes of others. >> https://blog.shiftr.io/showcase-1-2a4ef797cefc
Dia.log
The project "dia.log" explores the term by setting a dialog between the user and the thing; by understanding various contexts through their sitting behaviors. These objects are given the potential to be smart, but also have a chance to fail. >> https://blog.shiftr.io/showcase-2-5bba0cccbddd
Rambler Shoes
---
---